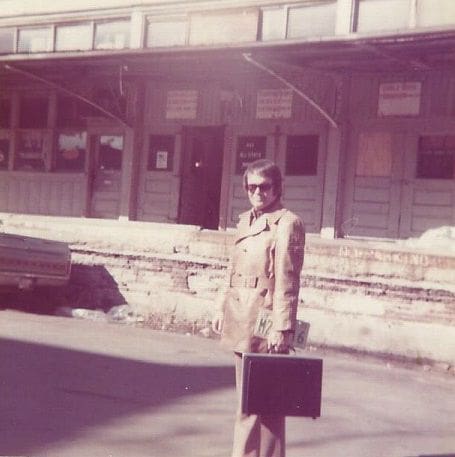 Donald Siratt built logistics powerhouse, left impact on region, charities
By Marice Richter
Donald Siratt was known as a larger-than-life character who loved to regale friends and family with tales of his humble beginnings, his dashing looks that earned him recognition as Most Handsome in high school and his skillfulness on the gridiron as an All-District running back and punter.
A good-natured prankster who gave gifts to others on his birthday, Siratt delighted in surprising friends and family with extravagant gifts such as Flying Elvis skydivers, a gospel choir, a carousel or lavish parties.
But his generosity didn't end with those close to him. If he read a news story that touched him, he would find a way to help.
Donald Siratt, known as "Big Don" by many and "Papa Bear" by his family, died May 13 at age 80.
Donald Siratt began his career as an unconventional entrepreneur more than 50 years ago, starting a business in Fort Worth delivering building supplies and household appliances. A request to deliver a Xerox copier led him to turn his one-truck business into a lucrative eight-state operation in the South and Southwest. The business, now known as WDS Logistics, is part of his legacy.
Donald Siratt was born on June 25, 1936, in a farmhouse with no indoor plumbing. He never forgot how some people disrespected him when he was young and poor, so he made excellent customer service the hallmark of his business.
"By being fair, honest, loyal, friendly and treating people as equals and with respect, you'll get the same in return," his son Colby Siratt, who co-owns the business with his brother, Donnie, told the Fort Worth Business Press.
After finishing high school in his hometown of Grandview, Donald Siratt was recruited to play college football but instead moved to Fort Worth to go to work.
He took a series of jobs, including moving engines at night for a railroad.
Known for his creativity and stubbornness, Siratt decided he would be better off running his own business.
In 1966, he and a friend started Western Transfer and Storage as a delivery company.
A call from a local Xerox representative to deliver a copier helped him carve out a niche for the company with deliveries of high-tech equipment as well as other goods.
Donald Siratt eventually bought out his friend and expanded WTS with a long-haul division.
In 1997, Donald Siratt sold his company to a competitor for Xerox's business. In 2001, after WTS had gone out of business, the Siratt family bought back the Texas locations under the name of WDS Logistics.
WDS won back the Xerox contract, rehired some of its former employees and was under the leadership of the younger generation of the Siratt family. The company has done business with numerous other Fortune 500 firms over the years.
Donald Siratt believed strongly in giving back to the community and served on many boards, including the American Heart Association and Texas Commerce Bank. He also gave to many charities, including Cook Children's, the Gladney Center for Adoption, Casa Manana, the Salvation Army and United Way. The Siratt Women's Center at Texas Health Resources Harris Methodist H-E-B, the fourth floor of the Andrews Women's Hospital at Baylor Scott & White All Saints Medical Center, and the Siratt Family Endowed Scholarship at Texas Wesleyan University are also part of his generosity.
Charity work continues to be a top priority for WDS.
Donald Siratt also made many lucrative investments in restaurants, office buildings, banks and land. One of his favorite investments was the purchase of 135 acres on a bluff in West Fort Worth, which was developed into the luxury neighborhood of Montserrat, where nine of Siratt's 12 grandchildren and great-grandchildren live.
Besides his two sons, Siratt is survived by his wife of 44 years, Gloria, and daughters Jana Siratt and Juli Mason.
Originally published Ft. Worth Business Press