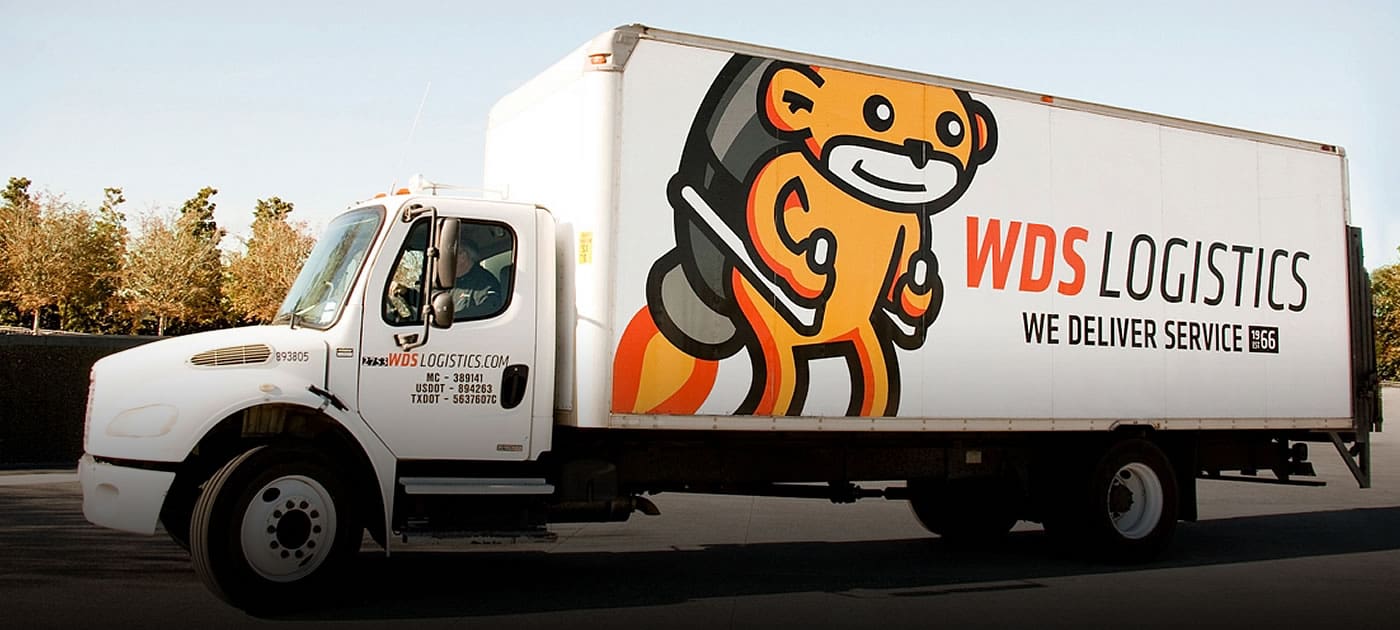 By: Rick Mauch FWBP Correspondent
The company logo? A monkey with a jet pack. He has been dubbed Dolby, a combination of Donnie and Colby Siratt, by employees and the name has stuck. Concussion, now PAVLOV, designed the logo in 2010.
Why a monkey with a jet pack you ask?
According to the company website: "Because nothing says service like a monkey with a jet pack."
The website continues:
Meet Dolby, our monkey with a jet pack. Having a monkey on your truck demands that you're a bit extraordinary, and our customers experience that in our results, our attitude and our delivery. Our monkey represents the can-do attitude and ability that WDS Logistics delivers. He really is a lot to live up to – and we do, every day.
What's better than celebrating one milestone? Why, celebrating two, of course.
Just over a half century ago, in 1966, Don Siratt started a business in Fort Worth with a single truck delivering building supplies and household appliances. It expanded to operate across eight states in the South and Southwest, delivering everything from copiers to groceries to auto parts.
Highlighted by the slogan, "We don't just deliver goods, we deliver your good name," the company became known for being efficient, dependable, one that genuinely cares about the satisfaction of its customers – and its customers' customers.
The company, WDS Logistics, was sold in 1997, but in 2001 the Siratt family bought back the Texas locations, thus the second celebration, 15 years since they made that decision.
And though the company is now owned and operated by a second generation of the Siratt family, the principles are the same as when Don Siratt was doing business – and they always will be, said Colby Siratt, the company's chief financial officer. His brother, Donnie, is the chief executive officer.
"Our dad always taught us the importance of taking care of the people that take care of the business, both employees and customers," Colby said. "By being fair, honest, loyal, friendly and treating people as equals and with respect, you'll get the same in return.
"He never forgot how some people treated him poorly when he was young and didn't have anything, and decided he would never do that to others."
As a result, Colby said, the company has had its biggest contractor, Xerox, for the entire 50 years. It also still has almost all of the customers it won over the past 15 years as well.
"By the same token, we have one employee that has been here 40 years and 10 more that have been here over 25 years," Colby said.
"Above all else, our father has always been about taking care of people and building long-lasting relationships," Donnie said. "Our motto is 'We deliver service,' and we live by that every time we interact with our customers, our employees and our community."
It was, in fact, the delivery of a Xerox photocopier, then a relatively new product, that helped Don Siratt and what was then called Western Transfer and Storage turn a corner in 1966. As Xerox grew, so did Siratt's company, helping him to branch out to other service lines.
The company continues as the exclusive installer of Xerox machines in Texas today. However, it takes pride in keeping up with the ever-changing marketplace.
"Our secret is that we do not expect companies to conform to a set delivery model, but instead we will take the time to learn their product and work with them to design a solution that fits their needs," Colby said.
WDS has earned the business of numerous other Fortune 500 companies through the years.
But WDS and the Siratts are more than a delivery business. They are also known for their charity work in the community.
About once or twice a month, they use their equipment and manpower to help Union Gospel Mission move families from the shelter to their own homes. They do similar work in their other locations.
"Our San Antonio team, for example, has used trucks to help battered women move their belongings out of a dangerous situation through the local women's shelter. Last Christmas, all locations did a drive for toys, clothing and so forth, then used our trucks and people to deliver those to the Boys & Girls Club, Haven for Hope, and others," Colby said.
During the recent holiday season they also helped All Saints Episcopal School move donation items collected for Thanksgiving to Union Gospel Mission. Drivers worked with the All Saints students to load and unload the trucks.
In recent years WDS has supported Casa Manana, Pickin' for Preemies (benefitting Cook Children's neonatal intensive care unit), the American Heart Association Heart Ball and the Christian Prayer Breakfast.
"We also encourage employees to be involved in their community," Colby said. "We have a number of people who volunteer, and we frequently give from the company to support causes that are important to them."
Today, WDS has about 100 employees.
Colby and his wife, Judy, are the board presidents of KLife, a local youth ministry, and the larger Siratt family stays active volunteering at schools, at church, on boards, and as coaches and chairmen of galas and PTOs.
"It's definitely a trait that they all received from Don and Gloria," Colby said of his parents.
Donnie started working for WDS while still in high school. He graduated from Texas Christian University's Neeley School of Business and then went to work for the company full time.
Donnie and his wife, Julie, have three children. One is at All Saints and two are at TCU.
Colby also graduated from the Neeley School. Afterward he went to work for Ernst & Young as an auditor and earned his certified public accountant credentials. He joined WDS full time in 2001, and he and wife have three children at All Saints.
Donnie and Colby still have lunch with their dad every Thursday to get his wisdom and advice. The whole family gets together every Sunday for dinner (and to watch the Dallas Cowboys) and typically takes a big family trip every year.
"The 'cousins,' as they call themselves, are all great friends," Colby said. "We're truly a blessed family."
And they are a family of TCU Horned Frogs fans. Both of their wives also graduated from the school, and one of Donnie's daughters, Sarah Grace, is a cheerleader.
"So we spend a lot of time, and dollars, supporting the Frogs," Colby said with a laugh.
The brothers also do some work in real estate and, along with their dad and sisters, have developed a couple of residential neighborhoods, including Montserrat, a luxury residential neighborhood on the west side of Fort Worth. Currently they are working on a commercial development along the eastern side of Montserrat, designed for restaurant, retail, light medical, and office space.
As for the next generation, Colby said, "We want them to follow their own dreams and ambitions, which may or may not lead them to the company business."
In all, there are 12 grandkids or great-grandkids, nine of whom live in Montserrat.
And as they all move through life, their fathers and grandfather hope they will follow the same philosophy that made the earlier generations successful.
"We hope to continue improving and expanding WDS Logistics and are always on the lookout for future real estate development projects," Colby said. "We are also excited to serve and continue giving back to this great community."